Hello everybody! Here, I want to show a sign of life and to give you a little insight into the current state of development of the SM64 Rom Manager and of the version 1.15, which is still in development.
Besides a few bugfix-updates here and there for version 1.14, the development for version 1.15 makes slow but steady progress. Because of that, I want to offer you a bright insight with some pictures and numbers.
For all of you, who didn't already read the post published long ago: Version 1.15 is the feature-update with the migration to .NET6 and the big UI-Rework. Here, for compatibility reasons, the complete user interface, which was originally created with DotNetBar, will be created newly with Telerik UI for WinForms. Alongside of this, there will be also some minor optimizations on routines already present, to improve performance as well as the whole upcoming compatibility for Linux-platforms.
Well, the UI-rework is the biggest trouble spot of version 1.15. Currently, there are 4 of 70 to-do-points checked. This includes also a lot of big aspects as the level editor and the main window or the model converter. Now, there only some smaller windows pending as well as some minor points I couldn't get down to. Overall, in the following picture you can see the last windows which still have to get migrated. Some other aspects will complete themselves only by doing this.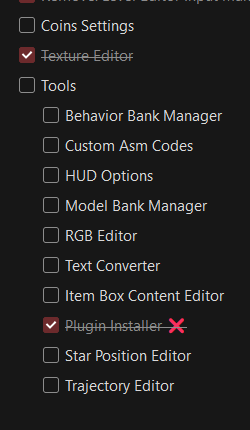 As my private time is really limited and I must come down here and then, I can't give any promises, when the new version can be published. But here I want to give you my personal estimation of my personal schedule.
| | |
| --- | --- |
| December 2023 | UI Rework Done; Start with public Alpha builds |
| February 2023 | Start with public Beta builds |
| July 2023 | Stable release |
The plan is indeed a bit vague, but I definitively want to start the public alpha builds till the end of 2023 and finish the UI-migration until then. Of course, there will still be some errors to fix, but that's not possible until the release of the alpha-build.
 As everything still takes some time and the last public pictures are published some time ago, I want to show you some screenshots of windows which are already migrated. As it's standard, they are created in the light theme, but of course, the dark theme also still exists and will be relative to the system settings by default.
Now I say goodbye and hope, that insight did please you. If you want to see more, just let me know and I keep you informed as well as it's possible. See you soon!